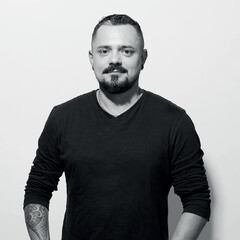 Yannick Puggioni
Concept designer & Art director & Motion designer
Montreal, Canada
Summary
Je suis actuellement concepteur multimédia dans l'événementiel et le divertissement . Je développe des concepts visuels interactifs pour la réalité virtuelle, réalité augmenté (diffusion vidéo et sur Hololens 2) et je créé aussi du contenue vidéo.
J'ai un background de motion designer, graphiste VFX généraliste 2D / 3D et directeur artistique dans la publicité, le corporate et l'événementiel.
Depuis plus d'un an, je collabore étroitement avec des professionnels du jeu vidéo pour développer du contenue et des outils à destination du divertissement.
Je communique ma vision des concepts artistiques auprès des équipes de production via des visuels 2D et 360 stéréoscopique. Mon rôle est aussi de prendre en considération dans mes concepts le UX du spectateur .
Je trouve passionnant de participer au développement de cette nouvelle expérience qui révolutionnera notre avenir proche.
------------------------------
I am a multimedia designer in events and entertainment.
I develop interactive visual concepts for virtual reality, augmented reality (video broadcasting and on Hololens 2) and I also create video content.
I have a background as a motion designer, general 2D / 3D VFX graphic designer and art director in advertising, corporate and events.
For over a year, I have been working closely with video game professionals to develop contents and tools for entertainment.
I communicate my artistic concepts vision to production teams via 2D and 360 stereoscopic visuals. My role is also to take into account in my concepts the UX of the spectator.
I find it exciting to participate in the development of this new experience that will revolutionize our near future.
Skills
Director
Art Direction
Concept Design
Motion Graphics
3D Modeling
3D Visualization
VFX Supervision
Software proficiency
Experience
Concepteur Multimédia / designer concept 2D ,3D, 360 VR at Lune Rouge entertainment

Montréal, Canada

- R&D, Concepts, art direction in Augmented Reality (AR) Oculus 2, Virtual Reality (VR).

- "Through the echo" V2.

VFX Artist / Art director at Reflector entertainment Ltee

Montréal, Canada

November 2018 - December 2019

- R&D, Concepts, art direction in Augmented Reality (AR) Oculus 2, Virtual Reality (VR).

- Madonna. Billboard music awards 2019 to the MGM Grand, Las Vegas.

- "Through the echoes" show for PY1, Montreal.

VFX Designer/Motion designer/Lead at Moment Factory

Montreal, Canada

November 2017 - November 2018

- 20th FOX parc: Lead designer.

- Colors of Bangkok mall: Lead designer.

- Ice show – Harmony of the seas: Motion design & VFX.

- Hong Kong airport : Concept design.

- Vallea Lumina Whistler: concept design.

- The Killers. Musique: When you were young.Fremont street, Las Vegas: 640 meters screen, 15K. Designer.

- Namie Amuro. Musique: Do me more. Namie Amuro show in Japon and China.

- Pont Jaques Cartier: designer for the midnight show.

R&D hardware/software for the VFX department